Your Visit Makes A Difference!
Joe's Playland, its' employees and our family thank you for your continued patronage and support. Through the years we have had the opportunity to contribute and give back to the community. Some of the local organizations that we support include: The Frederick Abdulla Memorial Scholarship Fund, The Anna Jaques Hospital, The Salisbury Beach Partnership, and the annual Sea Festival of Trees.


The Frederick Abdulla Memorial Scholarship was awarded in 2013 and 2014 in memory of Frederick Abdulla. It has helped local students high school seniors, who demonstrate a strong work ethic and a commitment to serving others achieve a higher education.
This scholarship is no longer available.


Joe's Playland and the Abdulla family are strong supporters of:
"Your Hospital: The Campaign for Anna Jaques and the AJH Annual Fund". Anna Jaques Hospital is an independent, not-for-profit community hospital serving 17 cities and towns in the Merrimack Valley, North Shore and Southern New Hampshire. Anna Jaques is recognized for delivering high quality, low cost community health care with an emphasis on patient satisfaction. It is because of your loyal support that we have the opportunity to contribute to this worthy fund annually.

Gold Sponsor of the Salisbury Beach Partnership. We support endeavors of this organization to bring people back to our spectacular beach all year long. All the planned festivals, concerts, and fireworks are FREE to the public. The initiatives to create fun, welcoming environment taken by this organization can be found at:
​
http://mysalisburybeach.com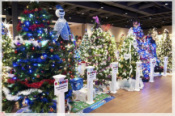 The annual Sea Festival of Trees is a holiday event, drawing thousands of visitors to Salisbury from surrounding communities. Joe's Playland, along with its managers and employees designs, decorates and donates a tree to this fundraising event, providing funds for community organizations.